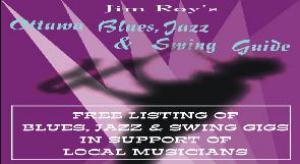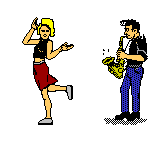 The Thirsty Moose,
Carleton Place
For Food & Blues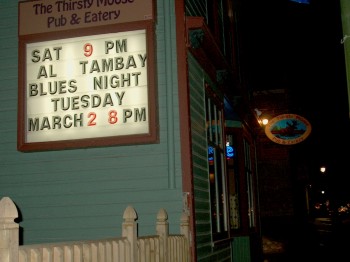 ---
If you live in Carleton Place or in one of the nearby towns, you may be familiar with both the food and beverages it offers and the live music it supports each month.
Located at 20 Bridge St. Carleton Place, phone (613) 253-0879, 'The Moose' is the home of the very popular Mississippi Blues Society Jams on the first Tuesday of each month.
At first glance, you mightn't think of 'The Moose' as a blues-friendly place to be. However, on the first Tuesday as well as on a good number of weekends, you can enjoy acts like Al Tambay doing his solo acoustic blues show and impressing venue visitors with his fine interpretation of both standards and his own penned blues tunes often with a rock flavour and with his incredible guitar picking facility and bluesy, rocky and fun vocals.
If you live in the area or even beyond and want to give the music and food at 'The Moose' a try, just drop by. This friendly valley town venue features both pub grub and something a little beyond with some of the best perogies you'll ever eat and interesting specials too.
Below left is one of the featured blues artists, L'il Al's Acoustic Act, that may appear at 'The Moose' usually on a Saturday.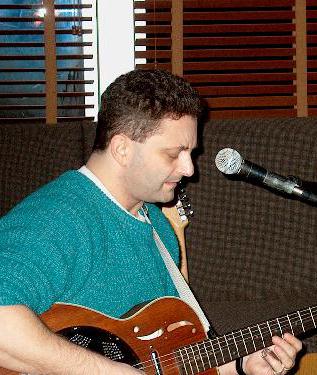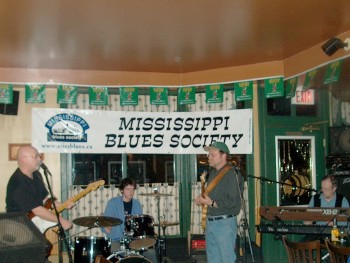 Right is one of the MBS Tuesday jams where both locals like Barry Buse and Peter Brown as well as some of the Ottawa Valley area's finest appear to enjoy their monthly blues jam. Come check out some the regulars such as drummer Pat Grenier from Arnprior, Roger Plante from Almonte, bassists Mike Ktenas and Chris "Jarhead" Breitner from Ottawa, Lou Rye from Barrhaven, drummer Tom Martel and many others including some young but accomplished jammers.


Main Page
Top