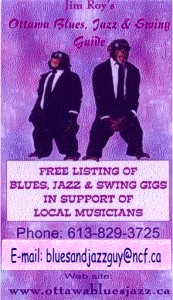 Guides this Month


Live Music Fans: For more info, simply click on the artist name or event in the schedule below. Details on any event of interest may normally be printed with a right click.


For more detailed lists, click the Tuesday link for Liz Syke's Ottawa Blues This Week or the Tuesday link for Gavin McLintock's Ottawa Jazz Happenings.

Musicians & Venues: Please click HERE for more info on the Do It Yourself listing process.


Note: This is intended as a live music guide. The best place to confirm these events is the venue in case of cancellations or changes that haven't been reflected in the schedule by the musicians or venues involved.
Please note: This schedule is designed to be viewed in smallest
text mode. If you can't see the Add Event & Printable View buttons
at the bottom of it, choose the smallest text view and refresh your browser.

ALSO NOTE: There may be times, depending on net traffic,
the calendar takes longer to load or may not at all if
Localendar.com is having occasional technical difficulties.
Please be patient when this happens . It will normally
eventually load, or, just try again later.

If you know of a listed event that's either incorrect or no longer on,
please click HERE to let me know so I can keep the list current.