Quicksand
Blues and Rock Band
---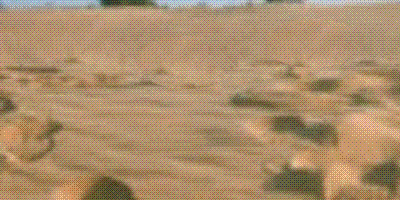 Here's a fun band to catch if you have a chance. Quicksand, Blues & Rock Band is definitely one of the Ottawa area's best kept musical kept secrets. They opened for Tony D and Trevor Finlay in September 2001 on the Ottawa Blues Cruise. Quicksand got things off to an infectious start filling the boat's dance floor very quickly and kept the boat blusin' and rockin' until Tony and Trevor continued the days fun. Check out their repeat Blues Cruise performance in 2002 at the links below.
Jim Roy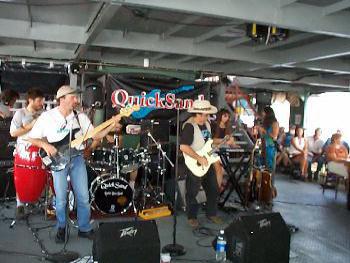 Quicksand has been on the periphery of the Ottawa music scene since 1998. The band has continued gaining fans of its blues and rock material with its accent on the band always having fun at its performances. And, because they are dedicated musicians letting out all of the fun stops, the audience very willingly goes along for the ride.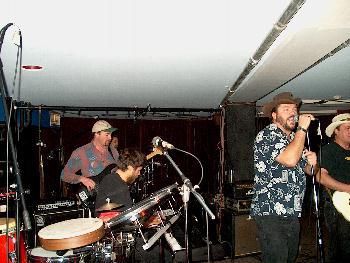 Quicksand has been a band of choice for Ottawa's newest Blues and Jazz Club, The Bayou at 1071 Bank St. near Sunnyside across from the Mayfair Theatre. At The Bayou's 1st Anniversary party, the band was well up to the task of blusin' and rockin' the Bayou to a great finish with its party goers still wanting more.
From club gigs to benefit concerts and outdoor parties, Quicksand has been entertaining audiences with their high energy shows, consisting of a fiery blend of rock, blues, and original tunes.
Events and venues played include The Ottawa Blues Cruise, The Bayou, The Gilmore, The Lockmaster, Baxter's, Bobby's, The Lighthouse,
Shawville Community Centre, Dunrobin Labour Day Bash, Clarence's Poker Run.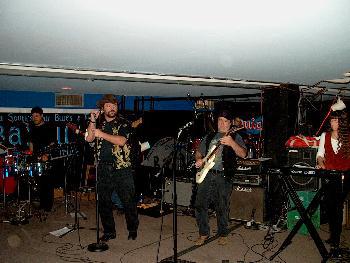 Quicksand ended off 2001 by keeping the fun going at The Bayou well into the first wee hours of 2002 to start the new year off right.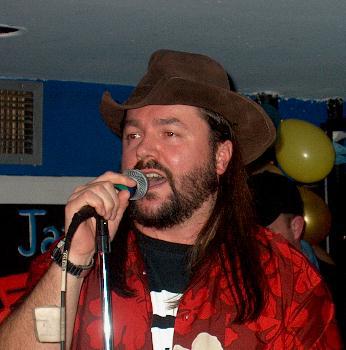 This is lead vocalist Richard King, who does a fine job singing the band's material while adding some energetic footwork to his performances. Richard does vocals, rhythm guitar, harmonica and percussion. He began playing bass and guitar in high school. Focusing on acoustic material, he released an original CD in 1996 entitled "Perfect World". He also did a teaching stint in Japan for 3 years where he was involved with 2 cover bands that played a mix of blues and rock. "Since joining Quicksand in 1999, I've had a blast sweating it out on stage and occasionally joining the crowd on the dance floor.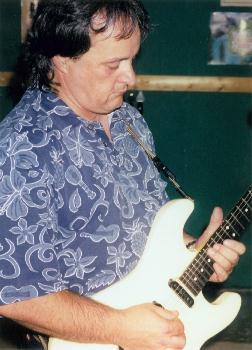 Bill St. Amand adds both his accomplished and catchy guitar licks and interesting vocals. An avid fan of all the guitar guys, Bill exchanged the tennis racquet for an actual guitar in 1974. When playing cover material, he tries to remain loyal to the original version while injecting some of his own guitar fueled fun. Born from his jams with Pete and Mike, Quicksand is a band of friends having fun the best way they know how.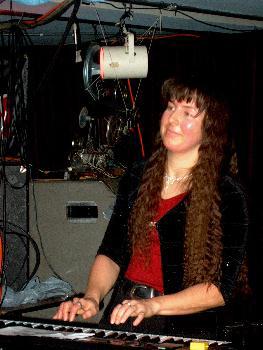 Linda Laframboise does wonders on the keyboard. Linda has been playing piano/keyboards since she was 8, which means that she's been playing awhile, but not too long. She completed grade 10 of the Royal Conservatory method, and has a bachelor of music from Ottawa U. She also teaches instrumental music to grades 6, 7 & 8 and has bands of up to 100 kids. In Quicksand, she accentuates the music with various keyboard sounds, and tickles the ivories to a wild frenzy.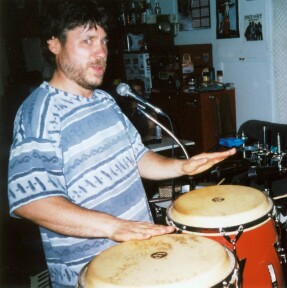 Mike Saliga - Give it to Mikey, he'll play anything. Primarily a bassist, Mike is a multi-instrumentalist who's talents include accordion, saxophone, percussion, alien rhythm devices, (ask to see his little pecker) and vocals. Mike's energy and musicality are transcendent to the audience. His improvisations are always a pleasant surprise.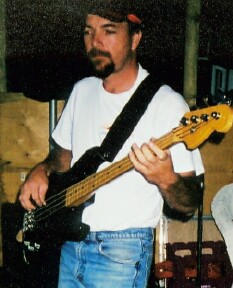 Pete Drouin - deftly handles bass & vocals. Being a French Canadian, Pete's listening habits vary from Offenbach to Black Sabbath to B.B. King. Over the past 12 years, Pete has been in a variety of top 40 bands including The Props and Pokerface. A lust for life in the fast lane, Pete can be frequently found on a snowmobile, motorcycle, or when he moves to a slower lane, fishing.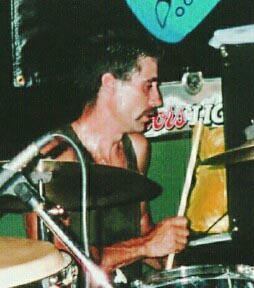 Mike Tremblay does a fine balance of drums and vocals. Mike has been playing drums for about 20 years. He began in his teens, heavily influenced by his brother. When he heard Frank Marino and Mahogany Rush, he was changed forever. Mike enjoys the challenge presented by the variety of styles the band embarks upon.
What's a basic Quicksand Performance like?

Quicksand does a combination of blues and rock with the first set mainly blues in the style of Booker T, Powder Blues, Johnny Winter, T-Bone Walker, Robert Johnson, Charles Brown, Coco Montoya and Buddy Guy. The second set is usually Santana material and the last set is open to anything that the fun and energy of the first two sets and audience reaction has challenged the band to aim for in it's pursuit to stay out of any musical quagmire.
Band Appearances
Friday - May 31st


Tae E. Lee's 25th Anniversary Party
The Rideau Club
Sunday - June 23rd


M & T Glass Picnic
Bean Town Ranch
Friday - July 26th


The Lighthouse Bar & Grill
110 Bearbrook Rd.
Saturday - July 27th


Party
O'Shack's, Clarence Creek, Ont.
Sunday - August 11th
2 pm

M & T Glass presents:
The Blues Cruise, with
Quicksand and
two other great bands
Pointe Gatineau, QC, Dock
More on the Cruise
Saturday - August 24th


L'auberge des pins
Messine, QC
Friday/Saturday - August 30th/31st
9:15 pm

Tucson's Roadhouse
2430 Bank St.
Friday/Saturday - September 20th/21st
9:30 pm

The Lighthouse Bar & Grill
110 Bearbrook Rd.
Band Contact & Booking
If you'd like to book Quicksand, call Bill St. Amand at (613) 759-4514.
Quicksand is available for weddings, birthdays, anniversary and other parties
and any other event that needs some musical fun insurance.
To e-mail Bill, click below. Be sure to leave quicksand in the Subject box.
E-mail Bill

Cool Links
Here are some cool Quicksand links to check out.
Cajun.ca
L'il Al's Combo
Ottawa Blues Cruise Web Site
Santana
Trevor Finlay Band

Blues Cruise - 2001
Blues Cruise - 2002




.....

Prepared by:
Webmaster, Jim Roy
Ottawa Blues, Jazz & Swing Guide